21 Nov

Posted By
0 Comment(s)
2491 View(s)
Over the years, Adidas X football shoes have been at the forefront of innovation in speed soccer cleats. Every update and iteration of it can give players a faster and more seamless experience in fierce competitions. Now, with the advent of Adidas X Speedflow, the adidas design team has once again raised the standard of speed football shoes with some new technologies, which push the limit of speed farther once again.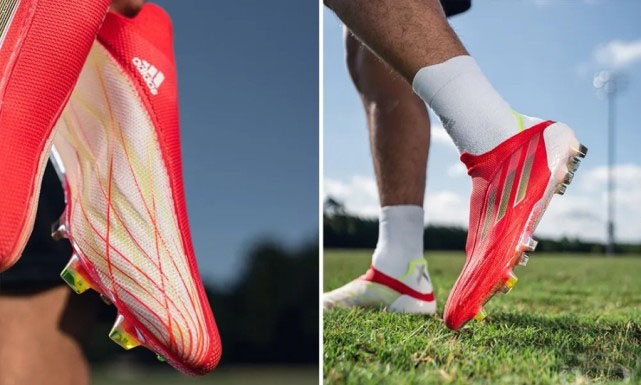 Today, we will conduct the first field test in the flagship version of Adidas' latest Speedflow series.As part of the upcoming Adidas Meteorite Pack, the new Adidas X Speedflow+ is more than just a color and appearance update. The upgraded vamp re-uses the familiar primeknit vamp, the AgligtyFrame is added to the inside, and the outsole of carbon fiber material is added. Adidas' football elites will also wear it for the first time.With the official release of the new sneakers, the Argentine genius Lionel Messi announced that he will return to AdidasX Speedflow soccer cleats and join other international superstars such as Mo Salah, Gabriel Jesus, and Karim Benzima .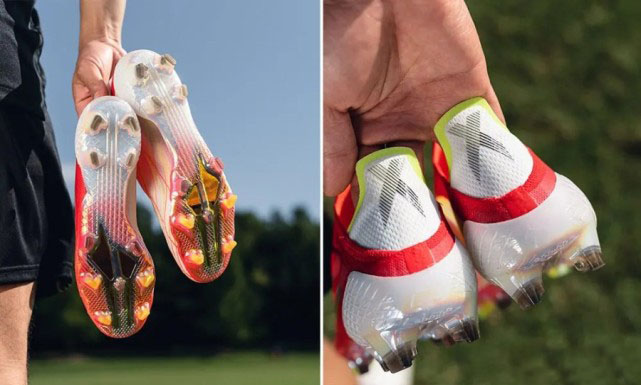 I believe many people agree that one of the most important elements of football shoes is the comfort it provides to the wearer. This is where the redesigned Adidas X Speedflow upper technology really shines. Compared with Ghosted+, you can directly feel that Speedflow's upper is softer and fits your feet. This is due in part to the ultra-thin PRIMEKNIT knit upper. Its extended material also covers the entire ankle, and adopts ergonomically improved tailoring to create a more fitting sock-like fit.
It also has an internal lattice structure design called AgligtyCage (also called AgligtyFrame), which keeps your feet locked during rapid changes and other actions. For me, this combination works perfectly and harmoniously when playing football. It makes your feet feel in a safe and supportive structure without experiencing that insecure cramp. This feeling is in other synthetic materials. It's never seen in shoe uppers. From the appearance, Adidas X Speedflow+ does have a fairly narrow profile, but due to the sufficient elasticity provided by the PRIMEKNIT upper, as a player with a wider foot shape than the average person, I did not feel the squeeze at all, so it is suitable for those with wide soles. Crowd. Adidas has also received some feedback from professional athletes on the heel. The two raised non-slip foam pads on the heel provide additional comfort and help to further lock your heel in the Adidas X Speedflow football shoes.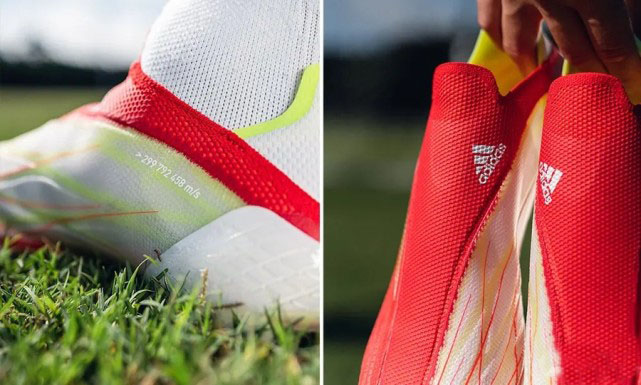 Is there any change in Adidas X Speedflow soccer cleats on the outsole?
One of the most eye-catching elements of SpeedFlow+ is this gorgeous rainbow-colored Speedframe outsole. Of course, in addition to aesthetics, let's talk about the level of grip it provides. Like the outsole on Adidas Ghosted+, this outsole has a light and responsive design designed for players with explosive off-track speed. A high-performance carbon fiber board is also implanted in the forefoot. This is another bold attempt by the Adidas design team to ensure the lightest and most sensitive speed experience. The irregular sharp studs provide good grip in a good condition of the field. I never felt that they were stuck during use. It is no exaggeration that this is one of my favorite outsoles at the moment.
How is the touch feeling of Adidas X Speedflow football shoes?
We have already introduced this brand new upper of Adidas X Speedflow soccer cleats, let's take a look at how it affects your touch. As I mentioned in the vamp fitting section, this PRIMEKNIT vamp of Adidas X Speedflow is a real game changer in terms of performance. It provide you with a comfortable fit, and also allows you to get a more sensitive and true touch of the ball. The laceless structure combined with the ultra-thin and extensible upper allows you to feel the ball movement almost barefoot when you control the ball, dribble, pass or shoot. Not only does the shape make you feel its speed, it should also be pointed out that the design team even succeeded in making it a little lighter than the previous generation Adidas X Ghosted. In the evolution of speed football shoes, Adidas X Speedflow can be regarded as an exciting progress, it provides a truly outstanding experience without sacrificing comfort and touch.